THE place for YOUR Water Treatment Products
Call: 01948 710699
Mon-Thu 9am-5pm | Fri 9am-4.30pm
Answer phone service at all other times
We'll be closed from 4.30pm on Monday 23rd Dec '19 until 9am on Thursday 2nd Jan '20.

Enquiries can be emailed via the link on the left or you can call and leave a message.
EXPERT ADVICE • QUALITY PRODUCTS • OUTSTANDING SERVICE
ALL DEPARTMENTS ...

OUR BRANDS ...
2 Wem Moss
Bettisfield
Whitchurch
Shropshire
SY13 2LT
Wrekin Water ECO15ULTRA HC High Capacity Digital Metered Water Softener - High Grade ULTRA resin -15L Resin Bed full details...
Wrekin Water ECO15ULTRA HC High Capacity Digital Metered Water Softener - High Grade ULTRA resin -15L Resin Bed full details...

15L Resin Bed

Designed to use up to 50% LESS water during the Cleaning cycle

Designed to use up to 40% LESS salt during the Cleaning cycle

Short Regeneration time - 46 Minutes

Using High Grade ULTRA Monospheric Resin giving a High Performance with Low Running Costs

Very Reliable using Autotrol tried and tested valve technology so NO routine maintenance required.

Can be installed side on

Choice of Fixing Kits available

Uses Tablet, Granular OR Block Salt

H W D = 575 x 270 x 420 mm

British Made & Assembled

Our Most Popular Water Softener
Related products:-
Water Softeners - Click to see all
Metered - Click to see all
ECO10ULTRA - 10L Version - Click for full details
Additional info:-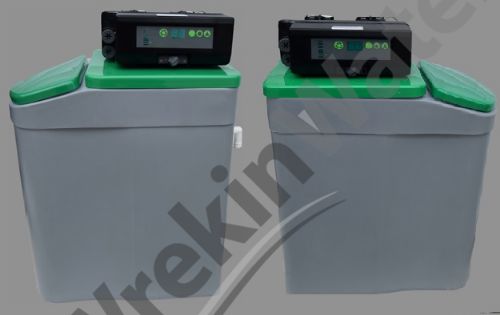 Side on Installation
Product options:-
Code
Details

*Price Incl VAT

ECO15ULTRA
Water Softener Meter Digital ECO ULTRA 15L
£564.00


(£470.00 Ex VAT)

ECO15ULTRA15
Water Softener Meter Digital ECO ULTRA 15L with 15mm Standard Fixing Kit
£595.20


(£496.00 Ex VAT)

ECO15ULTRACOMBI
Water Softener Meter Digital ECO ULTRA 15L with 15mm Full Bore Valves and High Flow Hoses (Combi Boiler)
£631.20


(£526.00 Ex VAT)

ECO15ULTRA22
Water Softener Meter Digital ECO ULTRA 15L with 22mm Full Bore Hi-Flow Fixing Kit
£656.40


(£547.00 Ex VAT)

SPECIAL-TABLET
Special - x1 Bag of 10kg Tablet Salt - Only when purchased with a Water Softener
£9.60


(£8.00 Ex VAT)
*Incl. standard delivery to all UK Mainland Postcodes. (Excl. Highlands)
If you are ordering from outside the UK, please call us on +44(0)1948 710699 for our most competitive shipping rate
Product details:-
Benefit from an Eco Ultra Softener….

....Remove calcium from your whole house abolishing lime scale build-up....

.... Without calcium and lime scale in your water you can achieve:


Softer laundry and towels

Washing Machines and Dishwashers last longer

No need to buy salt for your dishwasher.

Shower heads and taps last longer.

You will use less 'Every day products' - Soap, shampoo, conditioner, toothpaste, moisturiser - saving YOU money.

You will use less 'Household products' - Detergents, washing powder, bleach, cleaning products - Saving YOU money

You will help protect our planet against plastic pollution by buying less 'Every day and household products'

Removes existing lime scale build up making your home more energy efficient.


This Premium Metered Water Softener incorporates a new stylish cabinet that looks good in any modern Kitchen or Utility. This softeners has a low carbon footprint meeting the high standards being set for low energy, water and salt consumption.

This machine can be installed side on - See picture 3 above.

This softener packs a 15 ltr Resin Bed Vessel with greater Capacity into a compact and well designed casing, allowing easy access for filling salt, even in the tightest spaces.

Benefits from top grade, high efficiency Ultra Monospheric resin and the unit can use Tablet, Granular or Block Salt so gives the customer total choice.

Using Autotrol Valve technology, this machine will be very reliable and is designed to give lower water consumption and Salt Usage than conventional softeners. Up to 50% less waste Water and up to 40% less Salt usage than a standard Autotrol valve.

H.W.D 575mm x 270mm x 420mm
Allow 40mm on depth for hose attachment on valve

TECHNICAL

Connections Inlet/Outlet 3/4" BSP male parallel

Overflow 1/2" Hose connector

Drain 1/2" Hose Connector

Brine line 3/8 BSPT Male

Transformer-13amp/ 12V

Power Consumption 1w (Max 3w during regeneration)

Operating Parameters: Max operating Pressure 8.61 bar

Min Operating Pressure 1.5 bar

Max water temperature 38 degree C

Min water temperature Protect from freezing

Salt Type - Tablet (Recommended) or Granular

Salt Exchange 660g

Capacity between Regenerations at 300ppm. 10L = 1800 ltrs and 15L 2700L

Flow Rates up to 3.77 m3/h

Included as Standard with all options

Semi Professional Hardness Drop Test Kit

2 mtrs of Heavy Duty Drain hose with screw connector for easy fixing to softener drain point

1.5mtrs of Flexible Overflow Hose

User and Installation manual

Warranty Sheet

Inclusive Fixing Kits come with the following Components

2 x Inlet and Outlet Valves

1 x Bypass Valve

1 x Non Return Valve

1 x Pair of Water Potable quality hoses

4 x Rubber Sealing Washers


Wrekin Water Softeners will provide a 12 month Labour and 5 year parts on all machines that carry this offer, and covers genuine mechanical or electronic failure of the valve from the date of purchase and subject to the machine has been correctly installed. A 5 bar pressure limiting valve should be installed to protect the machine from excessive pressure. It does not cover failure due to external factors such as contamination from the incoming water supply, excessive pressure and weather related problems.

Wrekin Water engineers are Fully Qualified and will carry out on-site repairs. Many warranty covers are back to base for all locations and customers should be wary of this.

*On-Site Warranty is limited to UK mainland only.
Registered Office:
2 Wem Moss
Bettisfield
Whitchurch
Shropshire
SY13 2LT
Prices incl. VAT & delivery to all UK Mainland Postcodes. (Excl. Highlands)