21 November 2019
Hello. Summer 2019
Well the Summer is almost upon us - lets hope for Sunshine, Holidays, Camping and Seaside Days!!

KEEP HYDRATED:
Don't waste money on buying bottled water!! Get filtered water on tap!
Have a look at our drinking systems to filter the chlorine and other contaminants out of your water to keep you hydrated on those glorious hot days.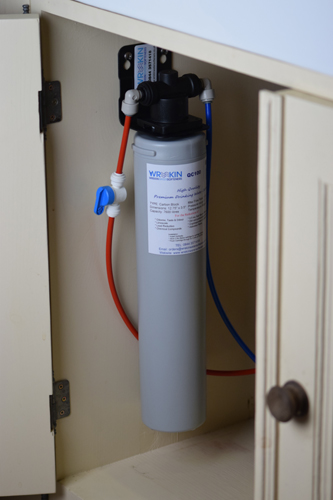 QC100 (Picture on the right)

Has a separate filtered drinking tap.

**Coconut Shell Carbon Block with superior 0.5 sub micron Filtration.
**Removes sediment and Micro Plastics
**Chlorine, Taste and Odour
**Herbicides, Pesticide and Hormone Reduction
**Heavy Metal including Lead reduction
**Cryptosporidium and Giardia Cysts
**Limescale
**Asbestos Fibres
**Capacity 7600 ltrs or up to 12 months

***DIY Installation***

Search QC100 on our webpage for further details

GOING CAMPING?: No worries. Have a look at our portable gravity units SS2-FL (Picture on the Left)

You can now get filtered drinking water on the move!!!

**Filters out Pathogenic Bacteria (Cholera, Typhoid, Salmonella, E-Coli etc)
**Removes Micro Plastics
**Filters out Giardia, Cryptosporidium and other parasites
**Effective Fluoride and Chlorine reduction
**Removes Herbicides and Pesticides
**Removes Hormones from water (oestrogens)
**Removes Organic Materials
**Reduces a wide range of Heavy metals including Lead and Arsenic

Search SS2 on our web page for full details.